The Edmonton Oilers currently are 2–6–1 and sixth place in the Pacific Division. To say they have struggled and disappointed would be a massive understatement. With fans and others alike freaking out right now, I went back and analyzed some of the slower starts in the McDavid era in years where they were considered contenders, and try to see if it's similar to what's happening right now.
The slow start in 2017–18
The Oilers in 2017–18 had eerily similarities to the this current team. Both teams were coming off a hard-fought series against the division winner in the second round, barely changed their teams in the offseason, and everyone choosing them as the next Stanley Cup winner. It all started out so well on October 4, 2017 as the Oilers shutout the Calgary Flames on home ice.
They then went to Vancouver and put on a no-show effort in a 3–2 loss and things fell off down from there. On October 24, in a overtime loss to the Pittsburgh Penguins, they were 2–5–1, the exact record they have now. By the end of October, they had a record of 3–6–1. Although by Christmas they would seem to find their game again as they were 17–17–3, they would lose seven out of their next eight games and put themselves out of contending for the playoffs.
So what went wrong? The injury to Andrej Sekera didn't help. One of the most underappriciated Oilers in my opinion. He tore his ACL in the series against the Anaheim Ducks and didn't return until late Decemeber. The thing is, he looked like a shell of his former self.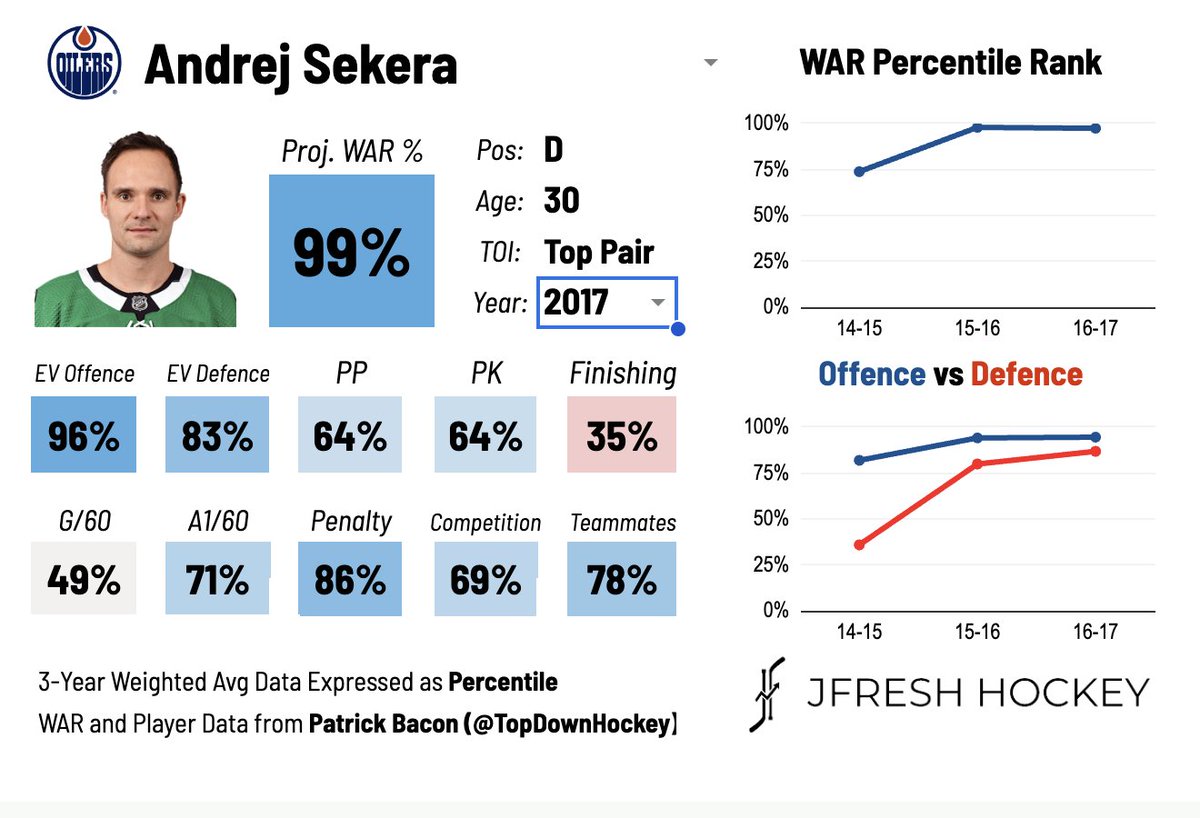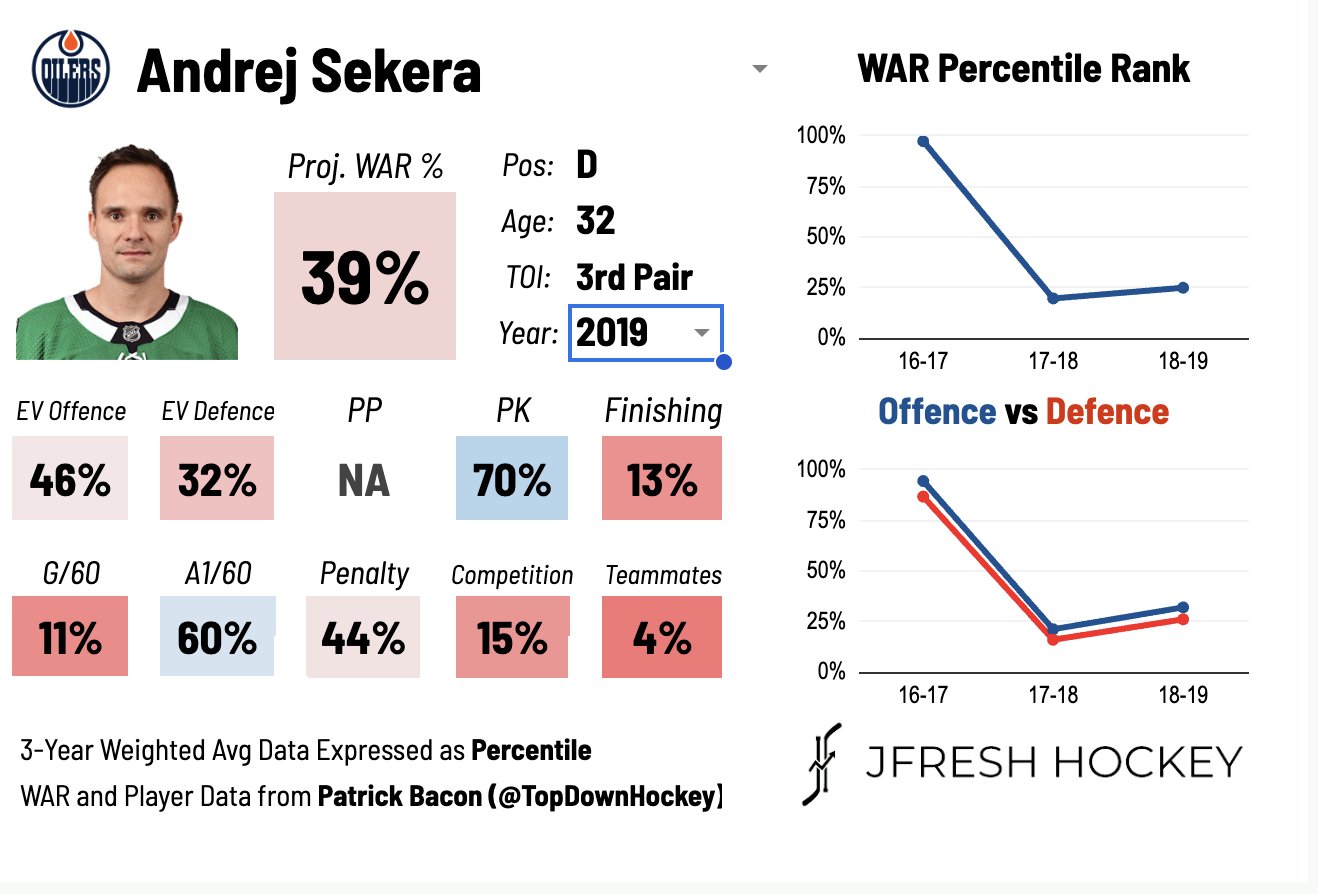 If Sekera was never injured, the Oilers likely beat the Ducks. They would have a top-four defenceman still in his prime. Another reason for the Oilers downfall was their lack of depth. Illustrated from one of my good friends @NHL_Sid on Twitter, who you should follow right now if you don't already: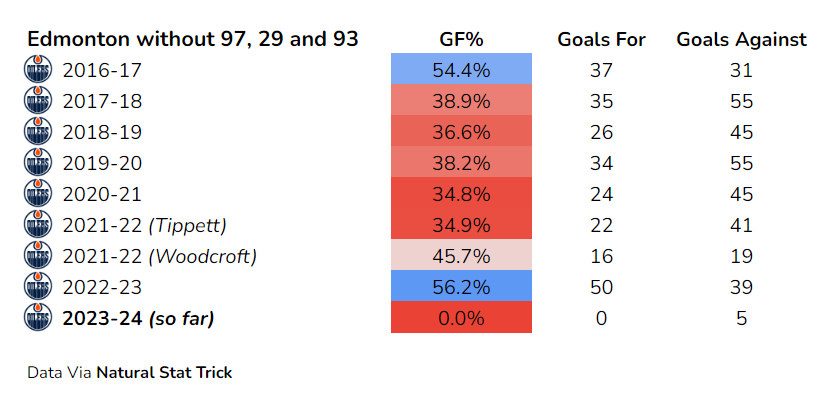 The Oilers depth got significantly worse that season. They were leaking goals against constantly. Another big reason was Cam Talbot. In 2016–17, Talbot who broke Grant Fuhr's record for wins in a season, played like a Vezina finalist, although he wasn't nominated—with 42 wins in 72 games, a .919SV%, a 2.39 GAA, and third in the league with a 29.10 GSAx. The next season? He was below-average. He wasn't bad or terrible, but it was just… meh. Playing almost a combined 150 games in the prior two years is gonna wear out any goaltender. With a GSAx of -2.3 and a .909SV%, which isn't even that bad to today's standards, the Oilers sunk. A few other reasons include the league's worst ever penalty kill on home ice, a terrible power play, and what felt like losing every coach's challenge that year.
Slow start in 2020–21
The year of the Canadian Division. The Oilers started out with a putrid record of 3–6–0 after their first nine games. Many media members and fans across the league were making fun of the team. In what was the easiest division, the Oilers with Connor McDavid and Leon Draisaitl were struggling. So what happened?

First off was the Mike Smith injury. Smith got hurt early in camp which led to Mikko Koskinen starting for the nine games. Well, why couldn't they at least play the backup a few times, you may ask? The Oilers third string heading into the season was Anton Forsberg, who was waived a few days before the season so he could go onto the taxi squad. The Carolina Hurricanes then claimed Forsberg. A few days later, he was put back on waivers and the Oilers did not even put a claim on him. Instead they called up Olivier Rodrigue for some unknown reason, and then waited until Troy Grosenick went on waivers and claimed him instead. It gets worse from here. A few days later after they picked up Grosenick, he went back on waivers and was claimed. Grosenick, by the way, drove to Edmonton personally. What an unethical move. Anyways, Edmonton later called up Stuart Skinner, who won his first ever game against the Ottawa Senators.
Mike Smith was not healthy until February 8 where the Oilers sat with a record of 5–6–0. Smith was shown to be a massive help as he finished sixth in Vezina voting, was fourth in GSAx with a 14.4, and went 21–6–2 with .921SV% and a 2.31GAA.
Another reason the Oilers struggled was once again a lack of depth, which was somehow worse than the 2020–21 team. The bottom six during those first nine games had a stat line of three goals and three assists. This is obviously not good enough.
The Oilers though, unlike in 2017–18 found their stride and challenged Toronto the entire season for top of the division.
Last season's slow start
Last season, the Edmonton Oilers started 10–10–0 through twenty games and were tied with two other teams for the last Wild Card spot. A part of their big struggles was definitely the play of Jack Campbell, who now is still showing he can't be counted as a reliable option in net. Evander Kane suffered a brutal injury during the fourteenth game of the year against the Tampa Bay Lightning, which led the Oilers to go 2–4–0 until the quarter mark hit.
The depth scoring was also, once again, questionable. Warren Foegele did not score his first until the aforementioned Lightning game, Kailer Yamamoto and Jesse Puljujarvi weren't producing, and guys like Dylan Holloway and Derek Ryan weren't playing many minutes to make a big impact. What happened next? They went 40–19–9. The depth scoring woke up, as the Oilers had their entire top 12 have double digit goals. Skinner took over as the starter for the entire season and Kane, while not as productive, still provided a boost to the team.
No need to fret just yet
The Edmonton Oilers will be fine. Historically, they start slow, and as we all know, this team always goes off in the second half of their seasons. In 2021–22, they went 26–9–3 under Coach Jay Woodcroft. Last year, they were the best team after January 1 with a record of 30–7–7. They'll rebound, I promise.
---
References: https://moneypuck.com/goalies.htm, JFreshHockey, and @NHL_Sid
Photo by Fred Kfoury III/Icon Sportswire